Automatically export your
Lemlist

campaign results
Lembot saves you hours of manual export and import from Lemlist to Google Sheets. Say goodbye to
Export

😅
Try it

👇
Paste your Lemlist API key
In your account settings ↗, click Show to reveal your key and copy the charabia that looks like 121484f0eeab562679a6f586515b9c5.
Your dashboard
One click
Easy to setup, then it's only one click to export any Lemlist account any campaign report's CSV file in the Google Sheet spreadsheat of your choice.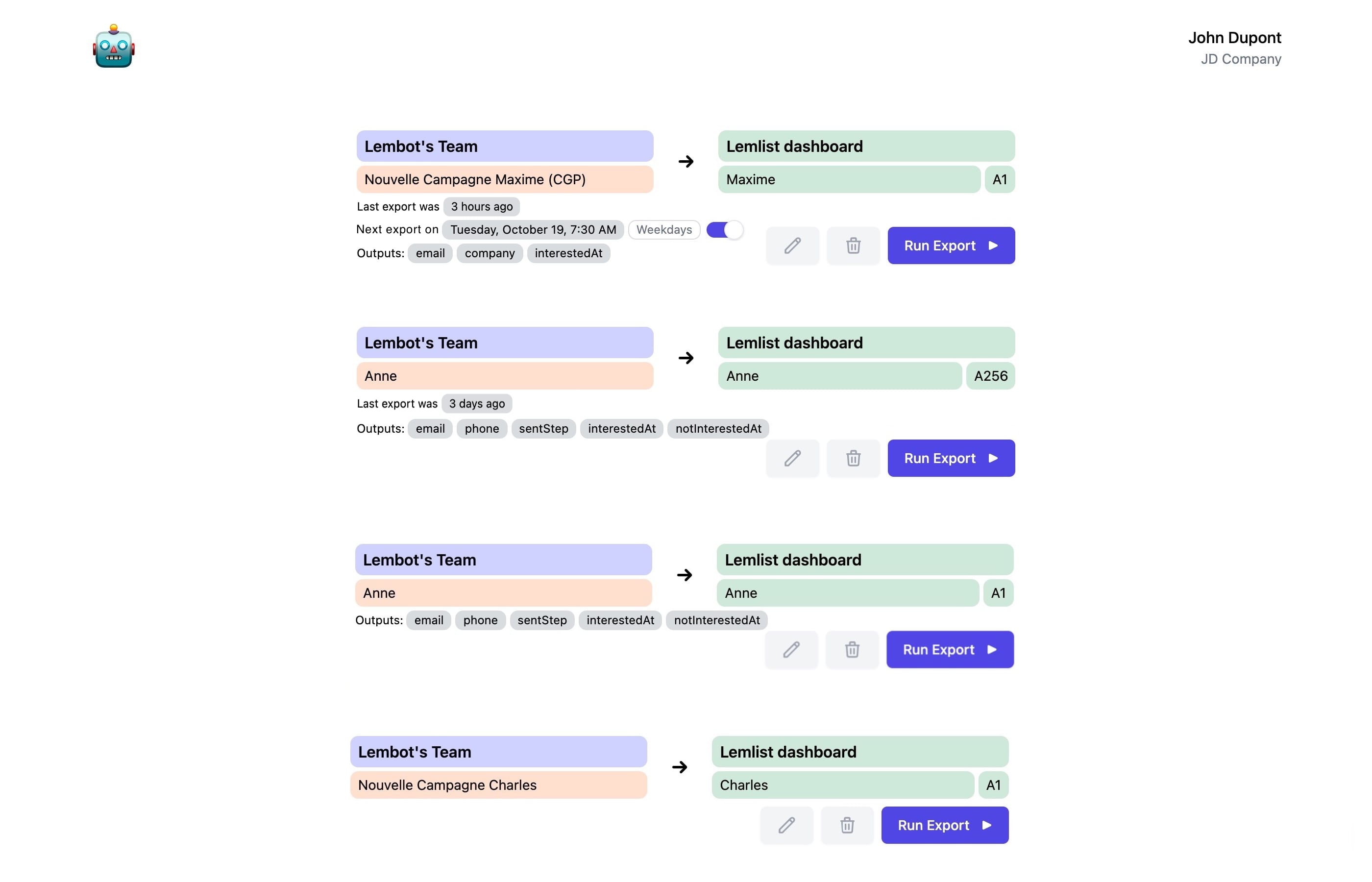 Save hours
Everything a lemlister needs
A bot is a script that automates the data transfer from Lemlist to Google Sheet.
Lembot's ultimate goal is to be your automation partner throughout your journey with Lemlist. Help me build the tool you want, submit ↗ a feature request.
Unlimited bots
Create as many automations as you need.
Unlimited exports
Never do an Lemlist export CSV and import into Google Sheet by hand again.
Create and save
An intuitive interface to create a new bot and save it for later use.
1, 2... or 1000 Lemlist accounts
Each bot can be configured with the Lemlist account of your choice.
Privacy first
Your data is copied and pasted into your sheet. They are neither stored nor analyzed.
I am freelance sales agent, have 4 clients, 4 Lemlist accounts and once every week I do export all my campaign reports in Google Sheets to keep my clients updated of my progress. Lembot saves me a lot of time, thank you!
Pricing
No-tricks pricing
If you are not satisfied, cancel anytime from your dashboard. No questions asked.
Unlimited bots

Unlimited run export

Unlimited Lemlist accounts
Feature request
Let's build it together
Lembot wants to be the best tool to automate your reports.
How could Lembot make your like easier? Tell me.